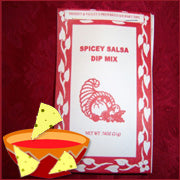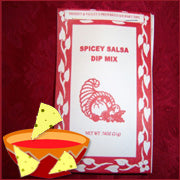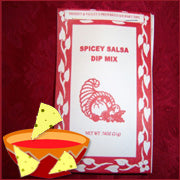 Spicey Salsa Dip Mix
You can make a Spicy Salsa dip with stewed tomatoes or make it smooth and creamy with sour cream and mayo.  Enjoy the salsa with chips or the creamy dip as a sandwich spread or with chips! (Makes 16 ounces)

Directions: 
Dip: Combine 1 cup of mayonnaise, 1 cup of sour cream, and 1 pkg of dip mix. Mix and chill for 1 to 2 hours
Salsa: Combine contents of salsa mix with a can of stewed tomatoes. Mix in a blender for 15 to 20 seconds.
Substitutions: 2 cups "lite" products, 2 cups cottage cheese, 2 cups plain yogurt
For a great cheeseball: Combine dip mix with 8 oz softened cream cheese, shape into ball and roll in chopped pecans or parsley.
ALLERGENS: None
Ingredients: Onions, bell peppers, tomatoes, garlic, cilantro, spices, salt, vinegar powder