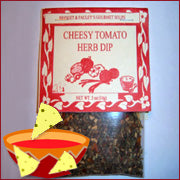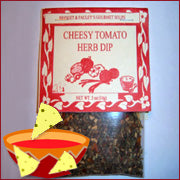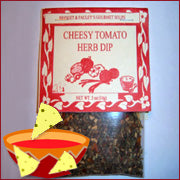 Cheesy Tomato Oil Dip
Serve Cheesy Tomato Oil Dip with your favorite breads. Toss with pasta or salads. Great as a marinade on grilled meats, poultry and seafood.

Directions: 
Dip: ADD 3 TEASPOONS OF WATER TO CONTENTS OFPACKAGE. LET STAND FOR 15 MINUTES. ADD 1/2 CUP OF OLIVE OIL. LET STAND FOR TWENTY MINUTES. SERVE AND ENJOY.
Once mixed it can be used for bread dipping cooking or marinating steak tips, fish, chicken or veggies. Also goes good with salads.
ALLERGENS: Milk
Ingredients: ONIONS, TOMATO, SEA SALT, BASIL RED PEPPER, BLACK PEPPER, ASIAGO CHEESE.