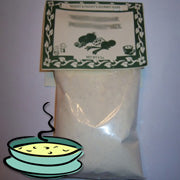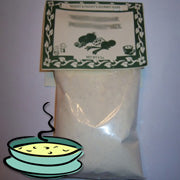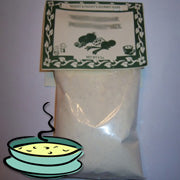 Good Old Fashioned Chicken & Rice Soup Mix
One of the ultimate comfort foods ,there is nothing better than a bowl of our Good old Fashioned chicken and Rice Soup on a cold day serve with a grilled cheese sandwich or just plain crackers. This is one soup that will satisfy everybody in the family.

Directions
Stovetop: Bring 8 cups of water to a boil. With a wire whisk, whisk in soup mix. Cook on medium heat uncovered for at least 20 to 30 minutes, stirring occasionally. Salt and pepper to taste. Add a can or 2 of Chicken (Shredded) or 2 to 3 chicken breast cut and shredded
Crockpot: Start with 8 cups of hot water , whisk in soup mix and add a meat or vegetable if you desire at this time and then cook on low for a minimum of 2 hours on low.
Need some variety? Add shredded cheese to the bottom of the bowl before you put the soup in.
Yield: About 8 one cup servings.
ALLERGENS: Wheat, milk, soy, and egg products
Ingredients: Long grain parboiled rice, low sodium chicken soup base (dextrose, potassium chloride, chicken [fat & stock & meat], maltodextrin, vegetable oil, hydrolyzed vegetable protein, vegetables* [onion, carrots, celery], shortening, cornstarch, spices [garlic, white pepper, turmeric], yeast extract, citric acid, natural flavors), salt, carrots*, monosodium glutamate, celery*.
 *Dehydrated